Economists in New China: A Record of Professor Li Baozhen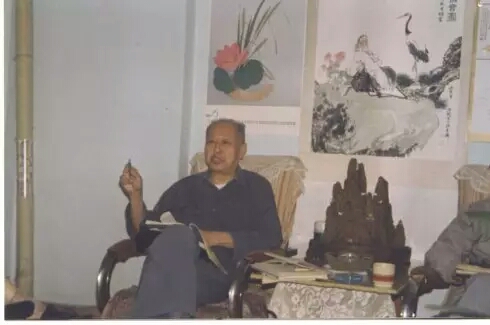 Profile
Li Baozhen was born in 1916, a person of Kunshan, Jiangsu Province. Most of his ancestors were scholars, and they took teaching as their profession. When he was young, he inherited the traditional culture education of family and private school, and had a profound foundation in literature and history. He was eager to study and worked hard. He was admitted to the New College of British Christian Church School in 1926, where he received strict English training, and studied new sciences such as mathematics, physics and chemistry, thus forming a solid foreign language foundation and creating superior conditions for his future academic career. He was admitted to the preparatory course of Tianjin University of technology and industry in 1931 , and two years later, he was admitted to the undergraduate business course of the University. He stayed in school to teach in 1937 and has been designated as the president of National Jingu University since 1951. (Note: Tianjin Industrial and Commercial University, founded in 1921, is the predecessor of Hebei University. It was changed from private to national in 1951, renamed "National Jingu University", and changed the name to Hebei University in 1960.)
Study Hard in Early Youth
During the university period, Li Baozhen had a strong interest in accounting, widely read Chinese and foreign accounting literature, drew rich nutrition from it, and formed his own academic opinions, attracting the attention of the academic circles. Li Baozhen wrote in his Memoirs: "Since I was in college, I love to read accounting books and periodicals of various countries. As Business schools often get books from abroad, the library is rich in collections. " There are more than 30 kinds of accounting books that I often read, such as Bookkeeping Theory written by Scheer, Double Bookkeeping written by Bobby, Practical Bookkeeping written by Aldcastle, etc. I have subscribed to Accounting Magazine edited by Xu Yongzuo and Lixin Accounting Quarterly run by Pan Xulun, and "read all the issues".
During his college years, Li Baozhen often asked foreign teachers for questions, and went to the accounting firm run by Fisher, a member of the American Institute of Certified Public Accountants and a professor of auditing, to assist Professor Fisher in auditing accounts and escrow real estate; He also worked as an intern in Tangsheng Company, the largest British accounting firm in Tianjin, and went to various industrial and commercial enterprises, banks and foreign firms to audit accounts with accountants, accumulating rich practical experience in accounting and auditing; At the same time, he also served as an audit assistant of Professor Fisher and accumulated rich experience in accounting and audit teaching; In addition, many foreign accounting publications borrowed from Professor Fisher made Li Baozhen "come into contact with foreign accounting theories and practices earlier", broadened his horizons and created favorable conditions for his future academic career.
Because of his painstaking study and serious thinking, his graduation thesis "Income Tax in China" passed the defense and got full marks, which was highly praised by the professor who presided over the defense. The thesis was also translated into French and rated as an excellent work by the Paris Academy of social sciences.
Indulge in academic education
After graduating as a bachelor in 1937, Li Baozhen stayed in Tianjin Institute of business and technology to teach, breaking the precedent that the accounting courses of the school were all opened by foreigners. He became the first Chinese teacher to teach accounting courses. He has taught bookkeeping, auditing, statistics, business practice, cost accounting, corporate accounting, etc. He was promoted to professor in 1942. A "Gongping Accounting Firm" was established. He accepted the entrustment of industrial and commercial enterprises to engage in accounting system design, review accounts and statements, income tax and other businesses, so as to increase work experience and serve teaching well. In 1945, he served as director of the Department of accounting and finance. In order to improve the teaching quality, Professor Li Baozhen hired experts who worked in the business department and made outstanding achievements in theoretical research to take part-time courses in the school; He selected the original American textbooks and strengthened students' practice; With strict teaching management, he encouraged teachers and students to engage in scientific research, and established an accounting society. Under his efforts, Tianjin Institute of business and technology and the Department of accounting and finance have enjoyed a growing reputation and received high praise from the society.
National Jingu University was established in 1951, and Li Baozhen was appointed Vice President and director of the accounting department of the school of Finance and economics by the government. Although he was responsible for heavy administrative work, he still worked on Teaching in the front line, teaching accounting and audit courses, and does not leave the teaching post. He has participated in many meetings on educational reform held by the Ministry of Education and professional meetings on formulating the Department's teaching plan and syllabus, so as to learn the education system and teaching theory of the Soviet Union and put it into practice in Jingu University, making an important contribution to the development of the School of Finance and economics of Jingu university after the founding of the People's Republic of China.
After the college adjustment in 1952, Li Baozhen resigned from his administrative position and became a professor in the accounting department of Nankai University. He was responsible for the teaching tasks of accounting principles, business accounting, economic activity analysis, inspection and supervision. In the meantime, he devoted himself to studying the Soviet Union, wrote papers and translated Russian accounting materials. He also wrote a monograph "Voucher Journal Accounting Form of Industrial Enterprises" together with other comrades, which provided a reference for the Ministry of Finance to implement voucher journal accounting form in China's industrial enterprises. The book was exhibited at the 1956 Tianjin Science and technology excellent achievements exhibition and was highly praised. The foreign students under the guidance of Professor Li Baozhen also introduced it abroad and spread widely.
Contribute to the Country with Outstanding Knowledge
As one of the initiators of the China Financial Society, Li Baozhen attended the founding meeting of the China Financial Society held by the People's Bank of China in Beijing in 1950. During the meeting, he attended the Expert Symposium at the invitation of President Nan Hanchen. He put forward several suggestions on "how to stabilize the financial market" at the meeting. He proposed that the indiscriminate issuance of promissory notes and speculation by underground banks to drive up prices should be stopped. After the meeting, the government took resolute measures and explicitly canceled the promissory note. During the meeting, Li Baozhen "was honored to be received by Chairman Mao and felt very encouraged that his suggestions could be adopted by the government".
In 1979, China established the basic national policy of opening up. In order to meet the needs of opening to the outside world, Li Baozhen suggested setting up the major of international accounting in colleges and universities of Finance and economics, and made great efforts to make it a reality. In order to set up an international accounting major, Li Baozhen drafted and designed the training objectives and curriculum of this major, which was approved by the State Education Commission. He tried every means to overcome the difficulties in teachers and original foreign language textbooks. Since 1987, he has enrolled students and taught in Tianjin University of Finance and Economics, and his graduates are in short supply in the society, reflecting the strong vitality of this major. In 1983, after the establishment of the National Audit Office, in order to train high-level audit talents, Li Baozhen suggested setting up audit majors in colleges and universities of finance and economics. This proposal was first adopted by Tianjin University of Finance and Economics, and enrollment began in that year. Since then, other colleges and universities have gradually set up audit majors.
In the early 1980s, Li Baozhen wrote a paper entitled "On Socialist Accounting Principles", pointing out that accounting work must be guided by accounting principles, and at the same time, foreign accounting principles should not be copied. This paper has aroused discussion in the accounting field. He also explored, researched and studied China's economic history, and published a series of articles on Accounting History, which aroused the repercussions of accounting circles. He is pleased with the research progress of accounting history in recent years, and has compiled A Brief History of Accounting in China as a contribution to the research of accounting history. He believed that accounting reform should not only sum up our own experience, but also learn from foreign experience, so as to critically absorb it and use it for our own use. Therefore, he wrote International Accounting and International Audit for reference by researchers.
In 1983, Li Baozhen wrote a paper entitled "Assumption of Accounting Teaching Reform", arguing that "since the founding of the People's Republic of China, accounting teaching and scientific research have always followed the Soviet model of the 1950 s, which is not suitable for China's current national conditions, so it must be reformed." As for the concept of "accounting function", influenced by the textbooks of the former Soviet Union, the early industry was summarized as "reflection and supervision"; According to the national conditions, Li Baozhen changed it to "reflection and control", which made the economic theory of New China more perfect and better served the socialist modernization. According to incomplete statistics, Li Baozhen has published more than 150 kinds of works and teaching materials since he joined the accounting career in 1930s, including more than 60 kinds of monographs, more than 80 papers and more than 3 million words, and many works have won outstanding achievements in philosophy and social sciences.
Conclusion
Professor Li Baozhen was diligent in learning and teaching; For others, he was gentle generous, and sincere. When he was the vice president of National Jingu University, he refused the commuting to and from work by the school car. Starting from the actual needs of teaching, he handed over the car to the mechanical department of the school for teaching experiments; At a doctoral thesis defense meeting held in a brother university, he made it clear that his speech was consulted by an expert friend and confessed to reading it; During his work at Nankai University, he cooperated with an associate professor in the Department of Trade to write an academic paper "Discussion on Trade Output Value". Li Baozhen thought that the author should focus on the associate professor who has studied special topics, so he put his name behind him... A talented economist has such a pure heart.
Looking at Mr. Li Baozhen's life, as he said in the Memories of Back Records, "Looking back at my life, I spend more time in adversity and less time in prosperity. I walked through this journey with the motto of "abstain from arrogance in prosperity and fight hard in adversity". The reason why I didn't fall down halfway is that I have an ideal that as a Chinese, I should take revitalizing China as my duty. The significance of life lies in making contributions to the society. People should be open and upright, fair and innocent, with ignorance of fame and fortune, and selfless in their hearts, so that they can concentrate on the cause they volunteer to fight for all their lives and make beneficial contributions to the country and mankind. "